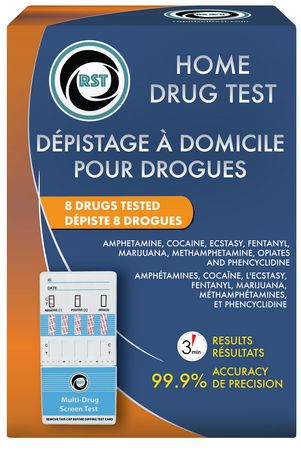 Product Description
Safely and easily use this Home Drug Test and receive fast and accurate results. Each package comes with one dip test and a urine collection cup. This Health Canada licensed drug test can detect the most common drugs. Simple to use, results can be quickly viewed within minutes. Readings are confidential with this Home Drug Test. They can help keep yourself or a family member safe. Results are 99 percent accurate.
Directions: Using this test is as easy as 1-2-3. Remove the test from sealed foil pouch. Collect urine sample in the specimen cup included. Dip the test area into the urine specimen. Read results in 3 minutes.
Checks for amphetamines, cocaine, ecstasy, fentanyl, marijuana, methamphetamines, opiates, phencyclidine
Fast results within 3 minutes
For in-vitro diagnostics use. For external use only. Store at room temperature. Do not freeze.